For several years, about 30 people every day download the copy of the Student's version of QuickField from our website. More than 5000 customers have filled our voluntary registration form. A lot of copies are distributed by anonymous FTP sites, on freeware CD-ROMS and by other means we have no control on. In most cases people use Students QuckField without necessity to contact us, so the total number of the Student's version users is unknown.
QuickField Professional is used in any part of the world – Europe, Asia, America, Australia, and even on little island in Pacific. Famous Universities, research centers and industrial companies rely on our software.
QuickField has been used in many big corporations such as Applied Materials, General Motors, General Electric, IBM, Jet Propulsion Laboratory, Hewlett Packard, Honeywell, Tektronix, Texas Instruments, and many more…
Here is what some of QuickField users have to say about the product.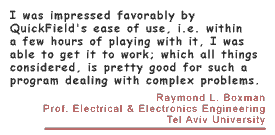 ---